Cut flowers make us feel good. They help us celebrate special events and communicate emotions by saying thank you, get well, I'm sorry, and I love you.

Then there's the special joy of receiving flowers, whether it's a red rose from the local florist or a fistful of dandelions from your daughter. Flowers, especially the intention behind them, mean so much.
Maturity also affects their keeping qualities. Cut roses, irises, daffodils and gladiolas in bud stage. Marigolds, dianthus, and delphiniums should be open. After cutting, immediately put flowers in lukewarm, not cold, water. (See more tips below). Cut the stem on a slant and remove any leaves that will be submerged in the vase.
Unfortunately though, flowers wilt. Do you ever feel delighted to receive beautiful flowers only to feel a little depressed as you watch them fade? While you can't bring cut flowers back to life, here are some tips for keeping them looking fresh longer. Let's start with learning the best way to cut your own bouquet.
What's the best way to cut flowers?
Flowers keep best when cut with a sharp knife (un-serrated) and plunged immediately into water. Always make a cut on a slant, as it exposes more stem surface area. Also, remove leaves that will be under water in the arrangement, but do not remove thorns from roses as it tends to shorten their life.
When is the best time to cut flowers?

Some people I know would say it's never a good time to cut flowers. They prefer to enjoy them alive and in the garden. But if you do like to cut them, the best time is early in the morning or late in the afternoon when it has cooled. Morning is when the plant is filled with stored food and the flowers are most fragrant. If you'd like to grow your own flowers and bedding plants, you'll appreciate my easy-to-follow seed starting tips

.

Flowers do the same thing. Their demand for water is continuous, even when they're cut away from the mother plant. The difference is that cells in the stem have tiny screens that allow water to pass, but not air. So, when the flower stem is cut, a small air bubble forms at the end of the stem and is trapped. This acts like a barrier and prevents more water from getting up the stem -- even if you replace the stem in water.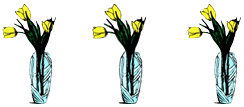 Why did my red roses wilt so fast?
While it may have been caused by excessive warm or dry storage conditions, you can pretty much blame wilted roses on air bubbles and bacteria. To prevent air bubble blocks, make a new stem-end cut while holding it in water. A small droplet of water will cling to the stem end as you transfer the rose to the vase. This prevents the bubble from re-forming. As to how bacteria causes flowers to wilt, read on.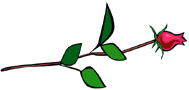 There are 5 things in life you cannot recover: A stone...after it's thrown. A word...after it is said. An occasion.. .after it's missed. The time...after it's gone. A person...after they die. Life is short. Break the rules. Forgive quickly. Kiss slowly. Love truly. Laugh uncontrollably. And never regret anything that made you smile, Enjoy Life .. Re-post if you agree
only if you really want too.... will you forgive ,Life is way to short .